The first stage of our known chess clock was the "SchachTimer" in 2000. The first "black" version was developed further in 2002 to the "ChessTimer Silver". The Cooperation with the European Chess Union (ECU) resulted in a fast introduction into European chess. 

Meanwhile this electronic chess clock has been used successfully in over 150 important national and international chess tournaments and has there proved to be of value.
World Chess Championship U18 in Spain 2002,  

European Youth Chess Championship in Turkey 2003, 

European Woman's Championship in Germany 2004,

European Club Cup in Turkey 2004, 

European Individual Women´s Championship in Moldava 2005,

World Youth Chess Olympiad in Turkey 2006, 

European Championship Men and Woman - Germany 2007, 

World Championship Youth - Turkey 2007,

World Youth Championship - Vietnam 2008 

national championships in Germany and Austria and many more
Since the number of tournaments using the "Silver" has increased enormously since 2009 we do not want to name them here explicitely.
For further increase of ability and marketing the production and the selling of the "ChessTimer Silver" were transferred to the independent company "EuroChessInternational" ECI in 2004.
In 2007 the "Silver" received the title "in full accordance with rules and regulations" by the FIDE. In 2009 we developped the "Silver plus" being able to output data and thus allowing an electronic transmission of chess games with the iChess system. In 2010 a speeking "chess clock" followed by help of a Chess Voice for the "Silver plus" after a special proposal by the International Blind Chess Association (IBCA).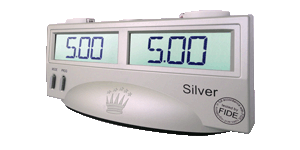 In 2014 we launched a redesigned Silver with an updated set of preset modes and the proven of value software.