SchachQueen - QuadroChess and Checkers (product code E730 - EAN 4260099740010)

After the great success of the first edition QuadroChess and Checkers was sold out completely. The new version 2015 comes up with beautiful new colours: red, yellow, black and white. The manual is now also available in Spanish and French. Do not hesitate to contact us for further information.

King 77 x Ø30mm, field size 47mm, board 50x50cm, 64 chess pieces, 32 checkers pieces in 4 coulours each.
QuadroChess and Checkers

Chess and checkers for up to 4 players using the traditional rules. More squares than in usual chess ensure interesting draws and totally new variations. Defend yourself from getting attacked from the side or even from the back. You can duel each other or play in groups. The game manual introduces different game possibilities.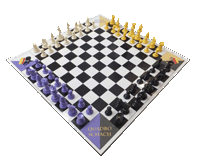 The plastic chess pieces come in 4 different colours: black, white, yellow and violet in the size 77 x Ø30mm. The checkers pieces match these colours.