SchachQueen - Giant Chess Boards

We offer giant boards matching our pieces in three different materials: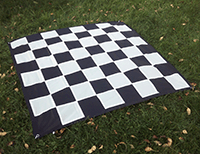 1. NEW in 2016: rollable and machine washable Nylon boards in the sizes

E333 mini (FS 17cm, 1,40x1,40m, EAN 4260099740928),
E332 Midi (FS 21cm, 1,70x1,70m, EAN 4260099740935),
E331 MAXI (FS 32cm, 2,72x2,72m, EAN 4260099740942),
2. plastic board for connecting in mini and MAXI size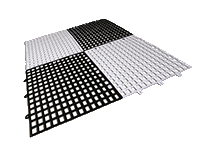 E323 mini (FS 16cm, EAN 4260099740201),
E321 MAXI (FS 33cm, EAN 4260099740188),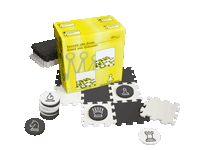 3. EVA - Ethylene vinyl acetate in mini size. this is a very light and innovative material perfectly dedicated for a use outside and inside. They are available as part of our -> table demonstration board chess and checkers.
The three different sizes of the giant chess games enable an individual application to your available space.